Back
12 June – 18 June 2021
Dublin, Ireland
Event
International James Joyce Symposium
An invitation to Joyceans to return once again to the city he situated so durably and resoundingly on the literary map.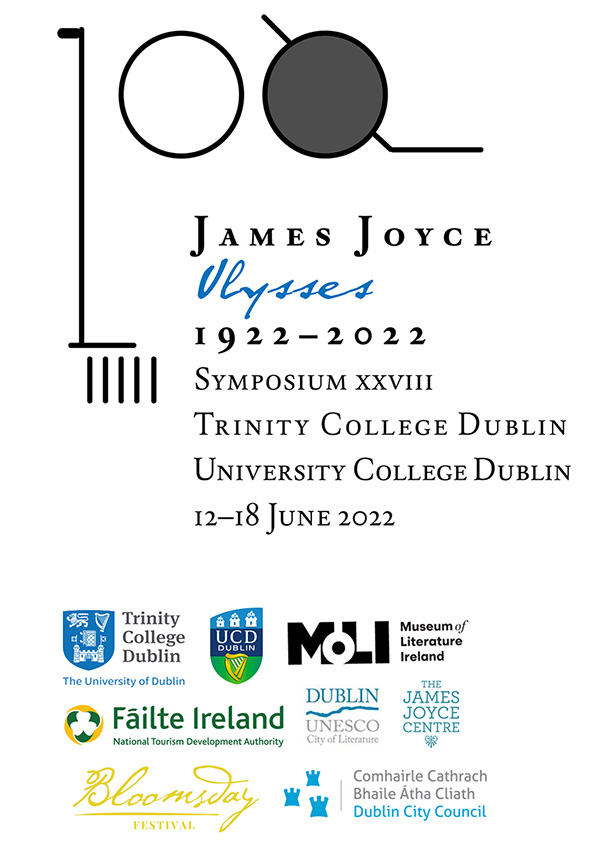 JAMES JOYCE: ULYSSES 1922–2022
XXVIII INTERNATIONAL JAMES JOYCE SYMPOSIUM
Trinity College Dublin
University College Dublin
"Deshil Holles Eamus." The delivery took place a hundred years ago, some 780 kilometers from Dublin. At 7 o'clock on the morning of 2 February 1922, Sylvia Beach, playing publishing midwife to the last, stood at the head of a platform at the Gare de Lyon in Paris, ready to be handed by the conductor of the Dijon express train the first two copies of Ulysses with which Maurice Darantiere had entrusted him. It took her only a few minutes to jump into a taxi, deliver one copy to Joyce's address, and rush to her bookstore, now bookstore-cum-publishing-house, to display the other copy in her window. All day long, people came to see the myth now made book. Now, after a hundred years of Ulysses, the book has turned back into a myth, and it has kept the professors busy for a full century. 
On the occasion of the hundredth anniversary of the publication of Ulysses, Trinity College Dublin and University College Dublin will host the 28th International James Joyce Symposium, and invite Joyceans to return once again to the city he situated so durably and resoundingly on the literary map.
The keynote academic speakers will be Katherine O'Callaghan and Anne Marie D'Arcy. The invited writers are Mark O'Connell and Eimear McBride. Host Committee: Sam Slote (TCD), Tom Walker (TCD), Luca Crispi (UCD) and Anne Fogarty (UCD). Academic Committee: Valérie Bénéjam (Université de Nantes) and Tim Conley (Brock University).
Find out more: https://www.tcd.ie/English/ulysses-100/
You might also like
Filter by:
Location
Date
Category
All
Baltimore
Berkeley
Boston
Brisbane
Brussels
Budapest
Buffalo
Canberra
Chicago
Copenhagen
Cork
Danbury
Dublin
Dundee
Durham
Edinburgh
Flensburg
Gronigen
Hay-on-Wye
Kerry
Kuala Lumpur
Kunming
La Línea de la Concepción
London
Los Angeles
Madrid
Maputo
Mayo
Melbourne
Montreal
New York
New York City
Northampton
Online
Ostend
Paris
Prague
Pula
Rome
San Marino
São Paulo
South Bend, Indiana
Tokyo
Warsaw
Zurich
All
This week
Next week
This month
Next month
All
Article
Event
Exhibition
Film
Photograph
Publication
Recording
No results. Try adjusting your filters.