Back
27 June 2022
London, England
Event
Multiple Joyce
David Collard and Rónán Hession discuss Collard's, Multiple Joyce: One Hundred Short Essays About James Joyce's Cultural Legacy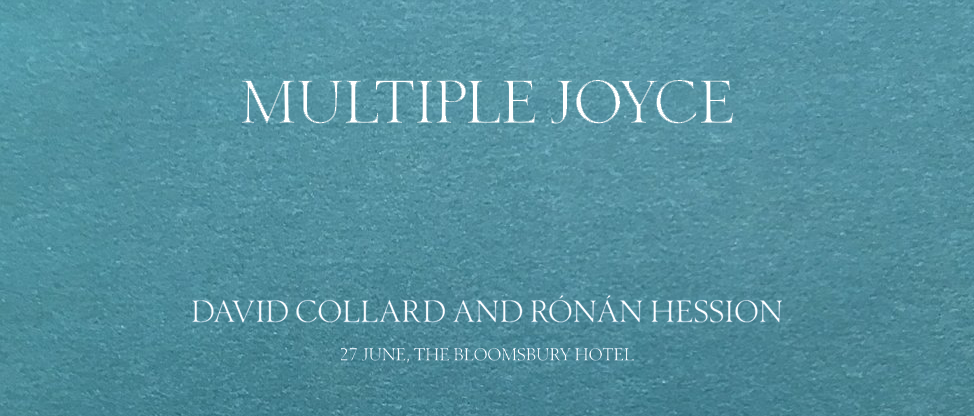 In this centenary year of the publication of Ulysses we are delighted to welcome David Collard back to the Society with his new book, Multiple Joyce: One Hundred Short Essays About James Joyce's Cultural Legacy (Sagging Meniscus Press, June 2022). Springing from the essays we'll have readings, song and discussion to mark the UK launch of the book and to bring our season to a close. The night also features a grand giveaway of Joyce titles!
Holding up a funhouse mirror to our times, Collard finds a multitude of Joyces, in often ludicrous disguises, wherever he looks—whether at Anthony Burgess, Cher, first editions, Flann O'Brien, Guinness, Hattie Jacques, John Cage, Kim Kardashian, Lego, Moby-Dick, numismatics, perfume, pianos, Princess Grace, puns, The Ramones, Sally Rooney, Stanley Unwin, Star Wars, waxworks or Zylo spectacles. Endlessly reinvented and exploited, Joyce emerges as a ubiquitous, indispensable and ruthlessly commodified Everyman. An excerpt riffing on Timon of Athens, Walter Benjamin and Ironman can be read on the RTÉ site. As Rónán Hession puts it in his foreword, Collard is above all "good company" and ""I wish that the first time anyone heard about Joyce was from David Collard." We're delighted that Hession, author of Leonard and Hungry Paul and Panenka will be joining Collard in discussion.
Event held at the Bloomsbury Hotel, 16-22 Great Russell Street London, WC1B 3NN
Find out more: https://irishlitsoc.org/event/multiple-joyce/
You might also like
Filter by:
Location
Date
Category
All
Baltimore
Berkeley
Boston
Brisbane
Brussels
Budapest
Buffalo
Canberra
Chicago
Copenhagen
Cork
Danbury
Dublin
Dundee
Durham
Edinburgh
Flensburg
Gronigen
Hay-on-Wye
Kerry
Kuala Lumpur
Kunming
La Línea de la Concepción
London
Los Angeles
Madrid
Maputo
Mayo
Melbourne
Montreal
New York
New York City
Northampton
Online
Ostend
Paris
Prague
Pula
Rome
San Marino
São Paulo
South Bend, Indiana
Tokyo
Warsaw
Zurich
All
This week
Next week
This month
Next month
All
Article
Event
Exhibition
Film
Photograph
Publication
Recording
No results. Try adjusting your filters.