Back
16 June 2022
Dublin, Ireland
Publication
How We Mortals Blame The Gods - DEBUT NOVEL
If the characters of James Joyce's Ulysses were alive today, who might they be?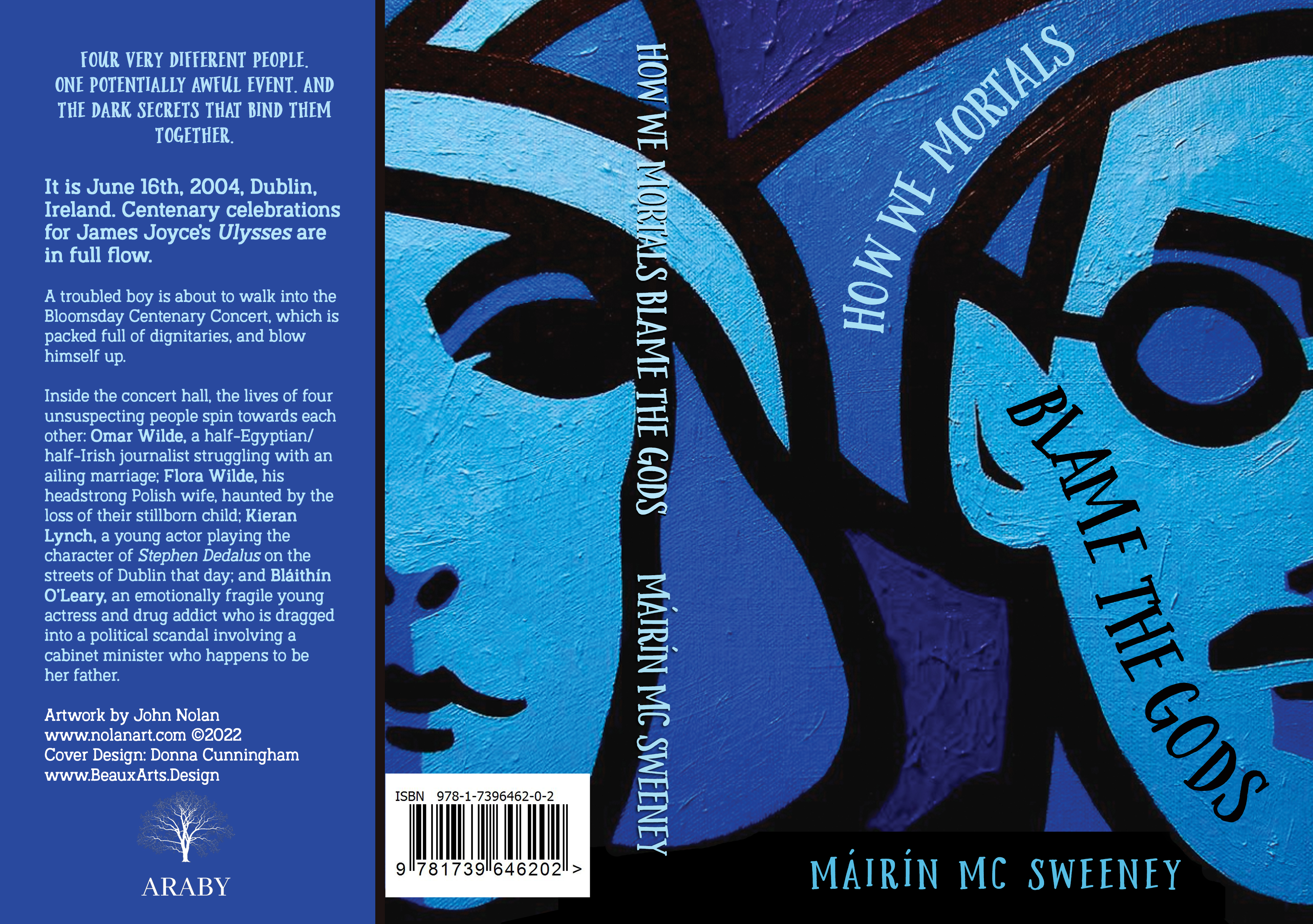 If the characters of James Joyce's Ulysses were alive today, who might they be?
It is June 16th, 2004, Dublin, Ireland. Centenary celebrations for James Joyce's Ulysses are in full flow. Four very different people, one potentially awful event, and the dark secrets that bind them.
DUBLIN, June 16th, 2022. How We Mortals Blame The Gods' is Irish author, Máirín Mc Sweeney's début novel which is a shadowing of James Joyce's Ulysses set 100 years to the day, June 16th 2004, after Joyce's masterpiece. It contemporizes similar issues such as religion, gender equality, and identity in modern Ireland.
A secondary aim of the novel is to bring new readers to Ulysses which is Máirín's favourite book of all time and a constant inspiration for her writing. The language is gritty, base, and exciting, while showcasing all the complexities of Dublin life at the height of the Celtic Tiger in 2004.
The tense drama is told through the eyes of four narrators (three of whom are shadowing characters from Ulysses). Omar Wilde, a half-Egyptian/half-Irish journalist struggling with an ailing marriage; Flora Wilde, his headstrong Polish wife, haunted by the loss of their stillborn child; Kieran Lynch, a young actor playing the character of Stephen Dedalus on the streets of Dublin that day; and Bláithín O'Leary, an emotionally fragile young actress and drug addict who is dragged into a political scandal involving a cabinet minister who happens to be her father.
Their complicated inter-relationships play out over this one day in Dublin, BLOOMSDAY June 16th, 2004. In the background, the brother of Kieran's friend, a troubled boy, is about to walk into the Bloomsday Centenary Concert, which is packed full of dignitaries, and blow himself up. Inside the concert hall, the lives of these four unsuspecting people spin towards each other. Will they survive, and will it change their lives forever?
Máirín Mc Sweeney grew up in Killarney, County Kerry, Ireland. With her family, she moved to Dublin at age 14 and fell in love with the city which would become the subject of her debut novel How We Mortals Blame The Gods. She has had many varied careers from running her own interior architecture business, working on humanitarian projects in Guatemala and South Africa, to more recently becoming a teacher of English Literature in Geneva, Switzerland. She earned an MA in Creative Writing in the University of Cape Town, South Africa. An avid traveller, she currently lives on Lake Annecy in France.
Find out more: www.mairinmcsweeney.com
You might also like
Filter by:
Location
Date
Category
All
Baltimore
Berkeley
Boston
Brisbane
Brussels
Budapest
Buffalo
Canberra
Chicago
Copenhagen
Cork
Danbury
Dublin
Dundee
Durham
Edinburgh
Flensburg
Gronigen
Hay-on-Wye
Kerry
Kuala Lumpur
Kunming
La Línea de la Concepción
London
Los Angeles
Madrid
Maputo
Mayo
Melbourne
Montreal
New York
New York City
Northampton
Online
Ostend
Paris
Prague
Pula
Rome
San Marino
São Paulo
South Bend, Indiana
Tokyo
Warsaw
Zurich
All
This week
Next week
This month
Next month
All
Article
Event
Exhibition
Film
Photograph
Publication
Recording
No results. Try adjusting your filters.