Exhibition
Love, says Bloom
An exhibition curated by Nuala O'Connor focussing on the emotional heart of the Joyce family.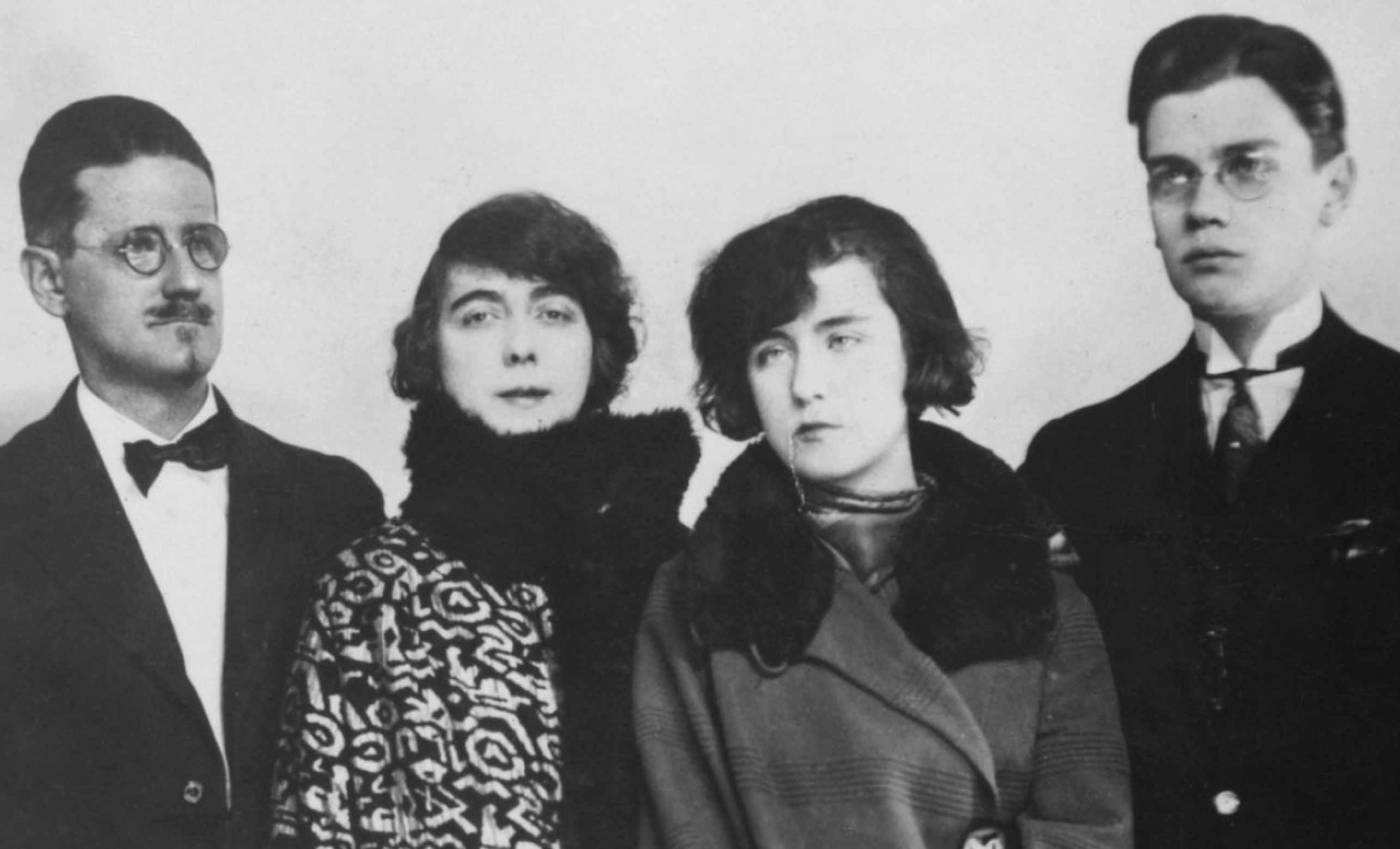 James, Nora, Lucia and Giorgio Joyce.
In Love, Says Bloom, a new temporary exhibition to complement the museum's existing display of the National Library of Ireland's Joyce treasures, author Nuala O'Connor guest-curates a visual exploration of Joyce's intensely loving family unit through film, images, narrative and contemporary song.
The permanent exhibitions at MoLI display Joycean treasures from the National Library of Ireland, including the famous Copy No.1 of Ulysses, alongside several of Joyce's original Ulysses manuscripts. MoLI's new temporary exhibition for 2022, we will take a step beyond these items to explore the relationships that inspired this writing.
Focusing on the close relationships Joyce had with each of his family members — Nora his wife, his daughter Lucia, his son Giorgio and his grandson Stephen, this exhibition will present a kinetic and dramatic visual experience of the Joyce family through images, film footage, spoken word and song. Music played a major role in the Joyce family, and the exhibition will involves specially commissioned performances of the family's favourite songs by contemporary Irish musicians.
Nuala O'Connor is a novelist, short story writer and poet, and lives in Co. Galway with her family. She is the author of five novels, and has won many prizes for her short fiction including the Francis MacManus Award, the James Joyce Quarterly Fiction Contest and the UK's Short Fiction Journal Prize. Nuala's work has also been nominated for numerous prizes including the Edge Hill Short Story Prize, the Kerry Group Irish Novel of the Year Award, the Irish Book Awards Novel of the Year and the International Dublin Literary Award. Her fifth novel, NORA, is about Nora Barnacle, wife and muse to James Joyce, published in Ireland in April 2021 with New Island.
Find out more: moli.ie
You might also like
Filter by:
Location
Date
Category
All
Baltimore
Berkeley
Boston
Brisbane
Brussels
Budapest
Buffalo
Canberra
Chicago
Copenhagen
Cork
Danbury
Dublin
Dundee
Durham
Edinburgh
Flensburg
Gronigen
Hay-on-Wye
Kerry
Kuala Lumpur
Kunming
La Línea de la Concepción
London
Los Angeles
Madrid
Maputo
Mayo
Melbourne
Montreal
New York
New York City
Northampton
Online
Ostend
Paris
Prague
Pula
Rome
San Marino
São Paulo
South Bend, Indiana
Tokyo
Warsaw
Zurich
All
This week
Next week
This month
Next month
All
Article
Event
Exhibition
Film
Photograph
Publication
Recording
No results. Try adjusting your filters.