Back
16 June 2022
Northampton, United Kingdom
Event
Letters to Lucia
Letters to Lucia is an original drama featuring letters as they might have been written to James Joyce's daughter Lucia by those who knew her well. These correspondents include her parents and the writer Samuel Beckett who visited her at St Andrews, the Northampton hospital where she spent the final years of her life.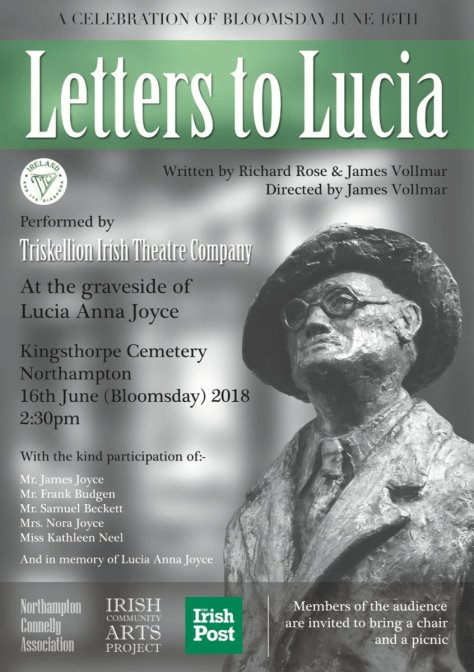 In the unique setting of the cemetery where Lucia is buried, her friends and family express thoughts and feelings they perhaps wished they could have articulated during Lucia's lifetime, but for various reasons did not.
From an original idea by Richard Rose, the drama was developed in collaboration with playwright James Vollmar and the Triskellion Irish Theatre Company. Cast of James Joyce, Nora Barnacle, Samuel Beckett, Frank Budgen and Kathleen Neel.
This new play will be performed on Bloomsday, 16 June 2022, at her graveside, Kingsthorpe, Northampton. Bring a chair and light picnic.
Also buried here are Irish writer Donall Mac Amhlaigh and Violet Gibson, also known as 'The Irishwoman Who Shot Mussolini.'
Find out more: https://irelandanditsdiaspora.com/triskellion-irish-theatre-and-concert-productions/
You might also like
Filter by:
Location
Date
Category
All
Baltimore
Berkeley
Boston
Brisbane
Brussels
Budapest
Buffalo
Canberra
Chicago
Copenhagen
Cork
Danbury
Dublin
Dundee
Durham
Edinburgh
Flensburg
Gronigen
Hay-on-Wye
Kerry
Kuala Lumpur
Kunming
La Línea de la Concepción
London
Los Angeles
Madrid
Maputo
Mayo
Melbourne
Montreal
New York
New York City
Northampton
Online
Ostend
Paris
Prague
Pula
Rome
San Marino
São Paulo
South Bend, Indiana
Tokyo
Warsaw
Zurich
All
This week
Next week
This month
Next month
All
Article
Event
Exhibition
Film
Photograph
Publication
Recording
No results. Try adjusting your filters.