Siar
30 Eanáir – 30 Méitheamh 2022
Poland
Event
Taming Joyce/Oswajanie Joyce'a
The Irish Culture Foundation, Honorary Consulate of Ireland in Poznań and English Department of Adam Mickiewicz University in Poznań invites all literature fans to join a series of lectures to help foster understandings of Joyce's life and his famous novel.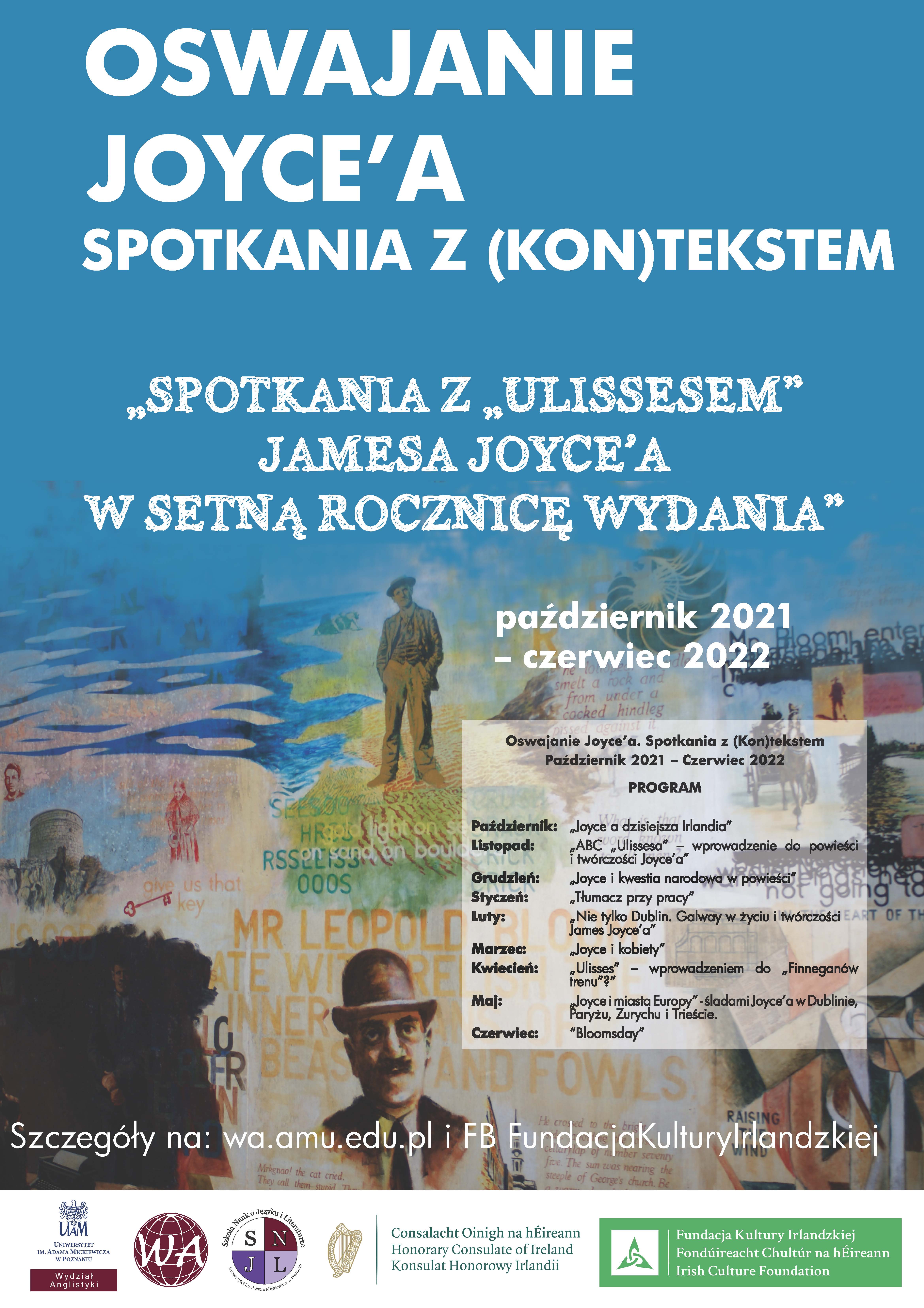 Irish Culture Foundation, Honorary Consulate of Ireland in Poznań and the English Department of Adam Mickiewicz University have organised a series of online lectures dedicated to Joyce and his works. The first lecture took place on 14 October 2021 to launch the second Polish translation of Ulisses by Maciej Świerkocki. The group has also hosted the following speakers at their online lectures series, including the Irish Ambassador to Poland Emer O'Connell, Prof. Katarzyna Bazarnik, a Joyce specialist from Uniwersytet Jagielloński in Kraków, the Irish historian Liz Gillis, and most recently on 28 January 2022, the Joyce translator Maciej Świerkocki.
There are more meetings to come. The series will finish in June with a Bloomsday celebration. Recordings of the lectures are available on the Irish Culture Foundation YouTube channel. For more information on the series, please follow the Facebook profile of FundacjaKulturyIrlandzkiej.
Find out more: http://wa.amu.edu.pl/wa/Around_James_Joyces_Ulysses
You might also like
Filter by:
Location
Date
Category
All
Baltimore
Berkeley
Boston
Brisbane
Brussels
Budapest
Buffalo
Canberra
Chicago
Copenhagen
Cork
Danbury
Dublin
Dundee
Durham
Edinburgh
Flensburg
Gronigen
Hay-on-Wye
Kerry
Kuala Lumpur
Kunming
La Línea de la Concepción
London
Los Angeles
Madrid
Maputo
Mayo
Melbourne
Montreal
New York
New York City
Northampton
Online
Ostend
Paris
Prague
Pula
Rome
San Marino
São Paulo
South Bend, Indiana
Tokyo
Warsaw
Zurich
All
This week
Next week
This month
Next month
All
Article
Event
Exhibition
Film
Photograph
Publication
Recording
No results. Try adjusting your filters.