Event
Open Class & Conversation about Ulysses
Dr. Luísa de Freitas holds an open conversation about Ulysses hosted in Lugar de Ler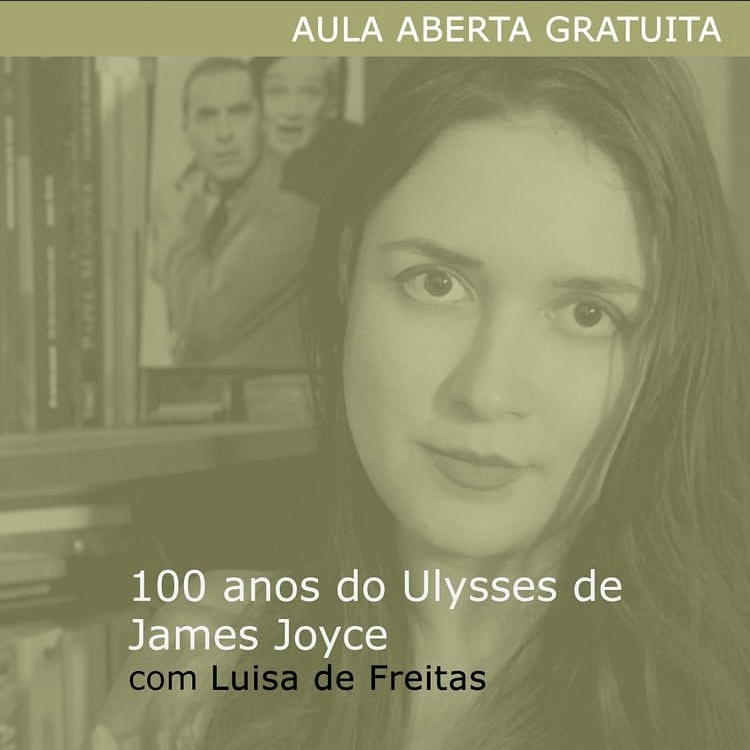 To celebrate this year's Bloomsday and mark the centenary of James Joyce's Ulysses, we are hosting an open class and conversation in Brazilian Portuguese with the joycean researcher Dr. Luísa de Freitas. It is an online talk that intends to introduce and encourage anyone who is interested in the work, but hasn't read it yet - either in English or in any of the three marvelous Brazilian translations.
The idea of our open class/conversation is to both bring together Portuguese speakers who already read Joyce and those who want to start doing so, with a broader and more diverse audience in view. The idea of hosting this open class on Zoom - and free of charge - is to make it more accessible to people all over Brazil (and anywhere in the Portuguese-speaking global community) to take part in our dialogue. The idea is also to make it a lots-of-fun kind of conversation, rather than an academic activity.

About the lecturer - Dr. Luísa de Freitas had James Joyce's Finnegans Wake as the focus of her PhD research in Brasília, Brazil. She was also a visiting assistant in research at Yale University in 2017, as a PhD student. Currently, she teaches languages and literature and offers various courses on different joycean works. She is also a member of the research group Joyce Studies in Brazil and co-manages the study group 'Here Comes Every Joyce,' founded by Prof. Vitor Alevato.
Find out more: https://www.lugardeler.com/product-page/100-anos-do-ulysses-de-james-joyce-aula-aberta-com-luisa-de-freitas
You might also like
Filter by:
Location
Date
Category
All
Baltimore
Berkeley
Boston
Brisbane
Brussels
Budapest
Buffalo
Canberra
Chicago
Copenhagen
Cork
Danbury
Dublin
Dundee
Durham
Edinburgh
Flensburg
Gronigen
Hay-on-Wye
Kerry
Kuala Lumpur
Kunming
La Línea de la Concepción
London
Los Angeles
Madrid
Maputo
Mayo
Melbourne
Montreal
New York
New York City
Northampton
Online
Ostend
Paris
Prague
Pula
Rome
San Marino
São Paulo
South Bend, Indiana
Tokyo
Warsaw
Zurich
All
This week
Next week
This month
Next month
All
Article
Event
Exhibition
Film
Photograph
Publication
Recording
No results. Try adjusting your filters.