Siar
15 Méitheamh – 18 Méitheamh 2022
Hungary
Article
Bloomsday Events in Hungary
Three main events as part of The Embassy of Ireland's #Ulysses100 celebrations during the week of Bloomsday
Our annual Bloomsday celebrations will hold a special significance this year as 2022 marks 100 years since the publication of Ulysses. The Embassy of Ireland has already supported a number of events this year as part of our #Ulysses100 celebrations with many more planned for the remainder of the year. During the week of Bloomsday (June 16) there will be three main events.
6pm on June 15th: Ulysses Journey 2022 concert at the Budapest Music Centre
A programme of new and existing works by both Irish and Hungarian composers. Further details available on the links below;
https://www.cmc.ie/events/2022/jun/ulysses-journey-2022-concert-budapest-music-center https://bmc.hu/programok/ulysses-journey-2022-ir-magyar-kortars-zenei-bemutato
June 16th: Ambassador Gargan will be attending the annual Bloomsday festival in Szombathely.
We are delighted to have Irish artist, Aideen Barry, travel to the festival to paint a Ulysses inspired mural in a prominent location within the city. Aideen has been in Szombathely for a week working on this project, you can follow her progress on her Facebook page below.
Further details available on the Facebook links below;
https://m.facebook.com/bloomsday.szombathely/ https://m.facebook.com/aideen.barry
June 18th – June 30th : Joycean Art Exhibition and Film Screening of Joycean Inspired Music Works at FUGA Budapest Centre of Architecture
Joycean Transfigurations: Ulysses and Ireland in the Works of Ferenc Martyn and Imre Szemethy, this exhibition presents a selection of the Joyce-illustrations and Irish themed graphics and paintings by excellent representatives of modern Hungarian art, FERENC MARTYN and IMRE SZEMETHY.
Ulysses Journey 2022: Film Screening; Contemporary Music Centre, Ireland and Centre Culturel Irlandais co-commissioned six new works by composers from Ireland that are inspired by, reflect on and/or respond to Ulysses.
https://www.cmc.ie/events/2022/jun/ulysses-journey-2022-film-screening-and-discussion-joyce-and-music-fuga-budapest-center-architecture
The Embassy would like to thank the many partners who have contributed so much to the Ulysses celebrations this year; the City of Szombathely, Project Arts Centre (Dublin), Aideen Barry, the Hungarian James Joyce Society, FUGA Budapest Centre of Architecture, Contemporary Music Centre (Ireland), Janus Pannonius Museum (Pécs) and Museum of Kuny Domokos (Tata), Budapest Music Centre.
Find out more: https://www.dfa.ie/irish-embassy/hungary/news-and-events/bloomsday-2022-a-centenary-celebration.html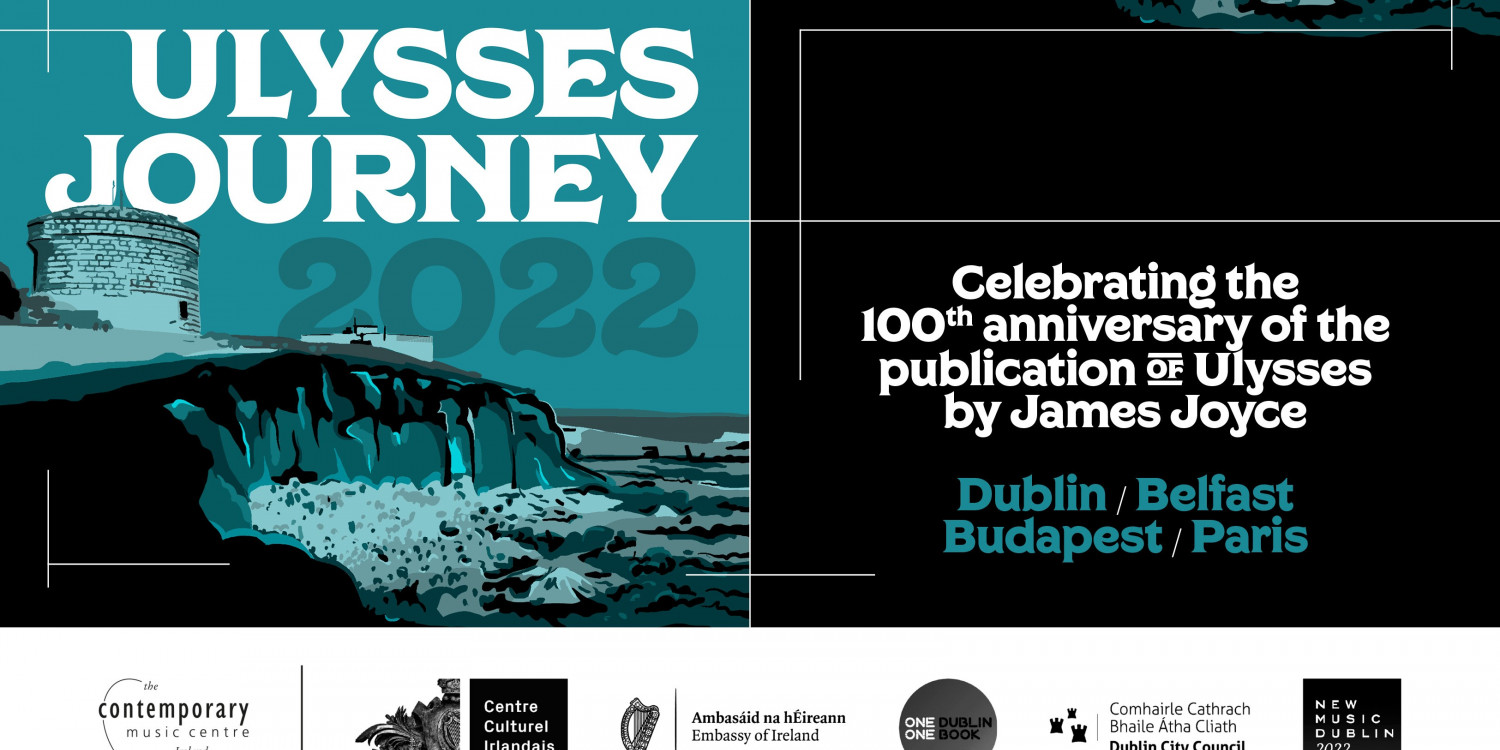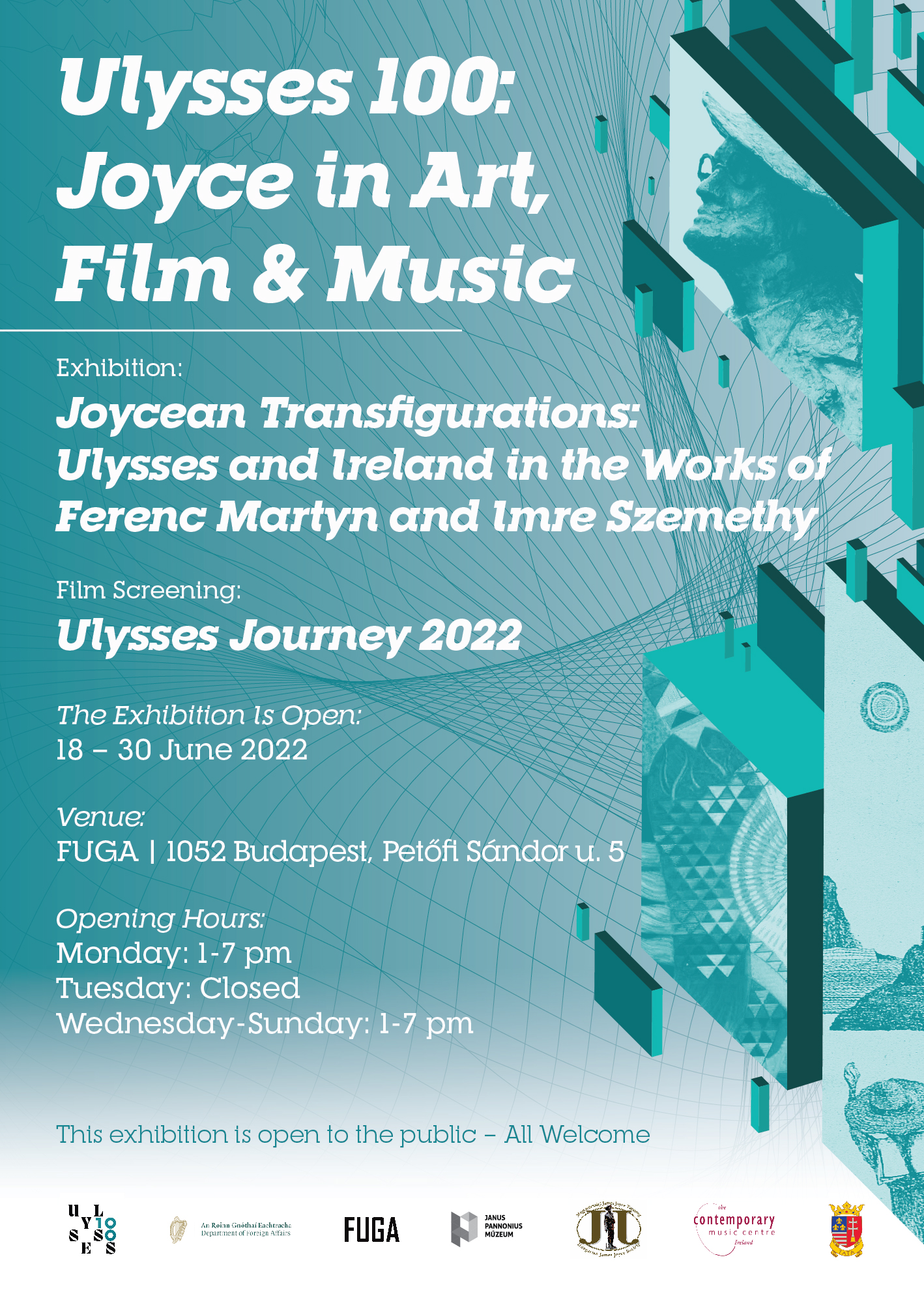 You might also like
Filter by:
Location
Date
Category
All
Baltimore
Berkeley
Boston
Brisbane
Brussels
Budapest
Buffalo
Canberra
Chicago
Copenhagen
Cork
Danbury
Dublin
Dundee
Durham
Edinburgh
Flensburg
Gronigen
Hay-on-Wye
Kerry
Kuala Lumpur
Kunming
La Línea de la Concepción
London
Los Angeles
Madrid
Maputo
Mayo
Melbourne
Montreal
New York
New York City
Northampton
Online
Ostend
Paris
Prague
Pula
Rome
San Marino
São Paulo
South Bend, Indiana
Tokyo
Warsaw
Zurich
All
This week
Next week
This month
Next month
All
Article
Event
Exhibition
Film
Photograph
Publication
Recording
No results. Try adjusting your filters.