Event
All day youd never know
Readings, screenings, discussion and music across the Museum of Literature Ireland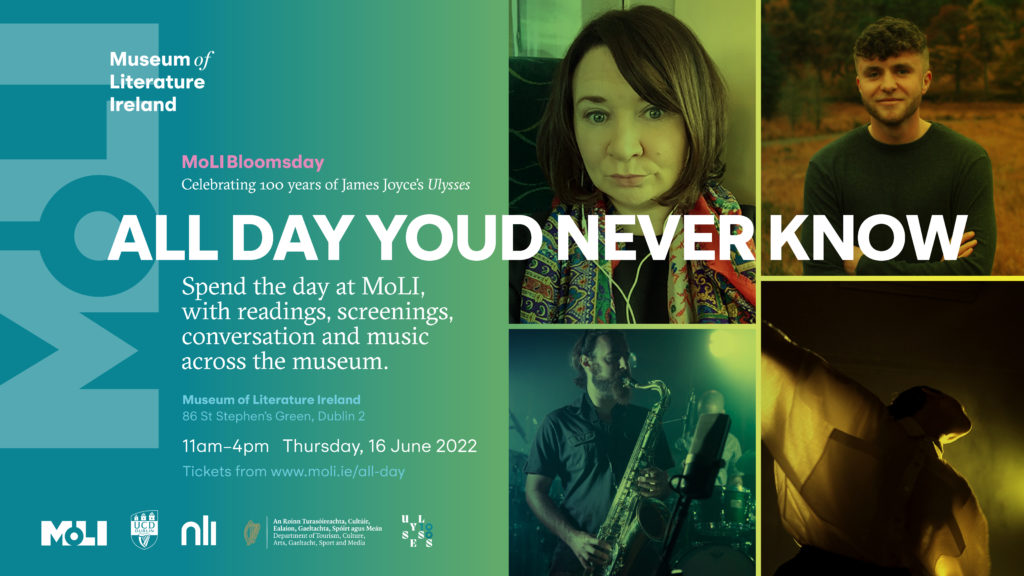 Spend the day at MoLI, with readings, screenings, discussion and music across the museum – and don't forget to see our new exhibition about the Joyce family, or to spend time with Copy No. 1 of Ulysses and James Joyce's notebooks.
Reading
11.00am Улісс/Ulysses
MoLI's Front Steps
Begin the day with a short reading from Ulysses in Ukranian and English
Film
11.30 Ulysses on Film
Old Physics Theatre
A selection of brand new short films inspired by Ulysses.
Music
12.00 Echoes of Ulysses
Aula Maxima
A performance by saxophonist Nick Roth.
Discussion
12.30 Launch of the Cambridge Centenary Ulysses
Old Physics Theatre
Celebrating a new edition equipped with maps, photographs, and explanatory footnotes.
Reading
13.30 William Keohane
Aula Maxima
New poetry by William Keohane juxtaposed with poems by James Joyce.
Music
14.00 Joyce's Guitar
Old Physics Theatre
Hear James Joyce's own guitar in Fran O'Rourke and John Feeley's performance.
Film
15.00 Remarkable Women: The Tale Behind Ulysses
Old Physics Theatre
A new documentary about six women who supported James Joyce for decades.
Reading
16.00 Lauren Foley
The Common Room
Stories that are fearless in their depiction of women's bodies and sexuality.
Find out more: https://moli.ticketsolve.com/shows/1173603514/events/428481811
You might also like
Filter by:
Location
Date
Category
All
Baltimore
Berkeley
Boston
Brisbane
Brussels
Budapest
Buffalo
Canberra
Chicago
Copenhagen
Cork
Danbury
Dublin
Dundee
Durham
Edinburgh
Flensburg
Gronigen
Hay-on-Wye
Kerry
Kuala Lumpur
Kunming
La Línea de la Concepción
London
Los Angeles
Madrid
Maputo
Mayo
Melbourne
Montreal
New York
New York City
Northampton
Online
Ostend
Paris
Prague
Pula
Rome
San Marino
São Paulo
South Bend, Indiana
Tokyo
Warsaw
Zurich
All
This week
Next week
This month
Next month
All
Article
Event
Exhibition
Film
Photograph
Publication
Recording